Band of Boys
Written by Alfiya Khan | Updated: August 12, 2018 12:07:07 am Members of the pop band Sanam
Its true that people in India dont really understand the concept of a band because we didnt have any big bands like The Beatles or the Rolling Stones. When movies like Rock On! came out, many people may have got the concept of a band. But it is still about the singer because we never had something culturally as phenomenal as any of these bands. The music today is not really band-oriented, its more about produced music, and the style of music doesnt really favour bands. It still focuses on the person who is singing. You look at the singer as the most important person. That can only happen if there are people who can change the perception of what a band is," says Venky S, bass guitarist and one of the four members of the band of boys, Sanam, who performed at the "Virsaa with Sanam Again" concert in Pune last week.
From humble beginnings, where they recorded songs in the bedroom of their parents homes using household objects for lighting and sound effects, to being YouTube stars with over 4.3 million followers and packed shows wherever they perform, the motto of the band has remained the same — to promote the indie pop and band culture in India.
All four members of the band, which comprises vocalist and frontman Sanam Puri, his brother Samar Puri (lead guitarist), Venky S (bass guitar) and Keshav Dhanraj (drums), agree that the biggest challenge in reviving the indie pop culture is competition from Bollywood. "In India, the music industry is only associated with Bollywood, which is actually a film industry. The whole idea of bands and independent artistes making music for the sake of music is missing. For example, if we were making a song for a movie, it would have to be what the producer or director wants, which suits that particular actor or role. Our music is where we make music for sake of it, its an art. That is missing in India to an extent. There are so many talented bands and people but if you want to make money in this industry, you have to go to Bollywood. We want to bring the band culture back in India. We want freedom to make music the way we want, so that we do not rely on someone else for work or ideas," says Dhanraj.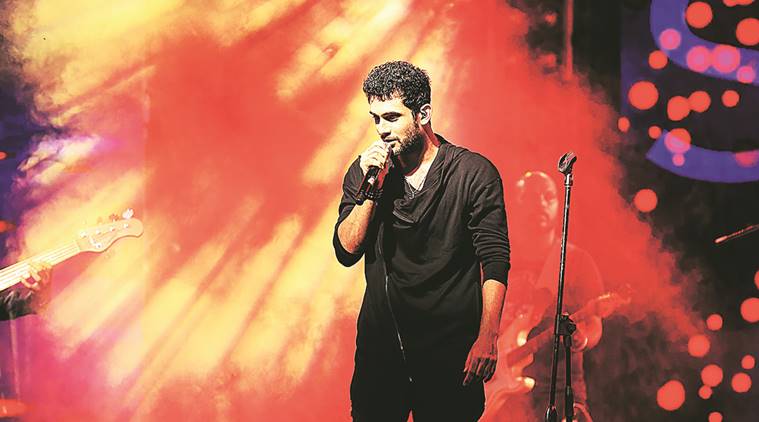 Sanam Puri performing at The Westin Hotel Pune
Sanam admits that reviving the indie pop culture is not an easy task, given Bollywoods influence on peoples musical taste. "This revival is not only dependent on us, but on a lot of other people. When someone starts doing well, immediately Bollywood comes to them. Everyones aim is Bollywood. Once they enter the film industry, they start growing but nothing is left in the independent space. In the 90s, we had such a vibrant independent space. In 2005-2006, when Kailasa came out and Teri Deewani, Saiyyan were such hits, they were getting somewhere but again no one else was doing it," he adds.
The idea of Sanam was born when the Puri brothers were in school or junior college, winning competitions and doing stage shows. "I remember when we started out we would only sing in English, we must have been 13 or 14. We switched to Hindi, as it was more popular. The old songs had such beautiful melodies, it tempted us," recalls Samar.
Were they apprehensive about touching songs such as Lag Jaa Gale and Mere Mehboob Qayamat Hogi? "We were extremely nervous, especially with iconic songs like Lag Jaa Gale, that are very sensitive. We thought people will be critical about it. Surprisingly, that did not happen. Today families write to us to share how three generations are our fans," says Sanam.
While the initial aim was to make it big, now its about sustaining. "What goes up, must come down. The shelf life for every artiste is limited. When the graph goes up, it becomes even more difficult to keep it there. How to go beyond that, its very difficult. When an artiste releases a video, people like you. Then when an artist experiments, people may not accept it. We also get bored doing the same thing, even if people ask us for it. We want to learn more. We are focussing on growing as artistes," concludes Sanam.
Must Watch
For all the latest Entertainment News, download Indian Express App