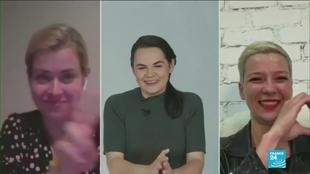 Belarus opposition figure Kolesnikova detained at Ukraine border
Issued on: 08/09/2020 – 10:14 Leading Belarusian opposition activist Maria Kolesnikova was held on..
Issued on:
Leading Belarusian opposition activist Maria Kolesnikova was held on the Belarus-Ukraine border Tuesday after she resisted attempts to force her to leave the country in a government bid to end a month of protests over President Alexander Lukashenkos controversial reelection.
Advertising Read more
Kolesnikova, a member of the Coordination Council created by the opposition to facilitate talks with Lukashenko on a transition of power, was detained Monday in the capital, Minsk, along with two other council members. Witnesses said she was bundled into a van by masked men.
Early Tuesday, Kolesnikova and the two other council members were driven to the border, where authorities told them to cross into Ukraine. Kolesnikova refused, and remained on the Belarusian side of the border in the custody of Belarusian authorities.
The two other council members, Ivan Kravtsov and Anton Rodnenkov, crossed into Ukraine.
Some reports said that Kolesnikova ripped up her passport to avoid being forced to move to Ukraine.
Anton Bychkovsky, spokesman for Belaruss Border Guard Committee, confirmed that Kolesnikova was in the custody of Belarusian authorities, but refused to give any details of what happened on the border.
#Lukashenko claims that opposition leader Maria Kolesnikova wanted to flee to her sister in Ukraine.

Seems legit, considering she ripped up her passport to avoid crossing the border. https://t.co/ds5w0LdfTC

— Khodorkovsky Center (@mbk_center) September 8, 2020
Kolesnikova played a major role in the campaign of opposition candidate Svetlana Tikhanovskaya, who claimed victory over Lukashenko in a disputed election last month, and has since addressed huge rallies calling for the presidents resignation.
Belarus has applied similar tactics of trying to force other opposition figures out of the country in a bid to end a month of demonstrations against the reelection of Lukashenko in a vote that protesters see as rigged.
A closer look at three key women opposition figures challenging Belarus's Lukashenko
Lukashenko has ruled the country for 26 years, relentlessly stifling dissent and keeping most of the economy in state hands.
The 66-year-old former state farm director has rejected criticism from the US and the EU, which said the August 9 election was neither free nor fair.
In an interview with Russian media Tuesday, Lukashenko repeated his position that he would not step down from power. But the authoritarian leader did not rule out early presidential elections, according to a journalist who interviewed him.
The interview came as Belarusian, Russian and Serbian military forces prepared to take part in joint military exercises in Belarus, the Russian RIA news agency quoted the Belarusian defence ministry as saying. Russian and Serbian forces would arrive in Belarus from September 10 to 15, RIA said without providing further details.
Meanwhile Tsikhanouskaya, the main opposition challenger to Lukashenko, addressed the Council of Europe's Parliamentary Assembly on Tuesday via a video link from Lithuania, where she fled a day after the election, under pressure from authorities.
In her address, Tsikhanouskaya called for international sanctions against Lukashenko and other government officials.
"We need international pressure on this regime, on this one individual, desperately clinging onto power," she said.
Tsikhanouskaya said Lukashenko did not have any legitimacy after stealing the vote and warned other countries against making any deals with the Belarusian government.
"He does not represent Belarus anymore," she said.
After a brutal crackdown on protesters in the first few days after the vote that stoked international outrage and swelled the ranks of protesters, authorities in Belarus have switched to threats and selective arrests of opposition activists and demonstrators.
Last week, Pavel Latushko, a former minister of culture and ambassador to France who joined the opposition council, traveled to Poland after facingRead More – Source