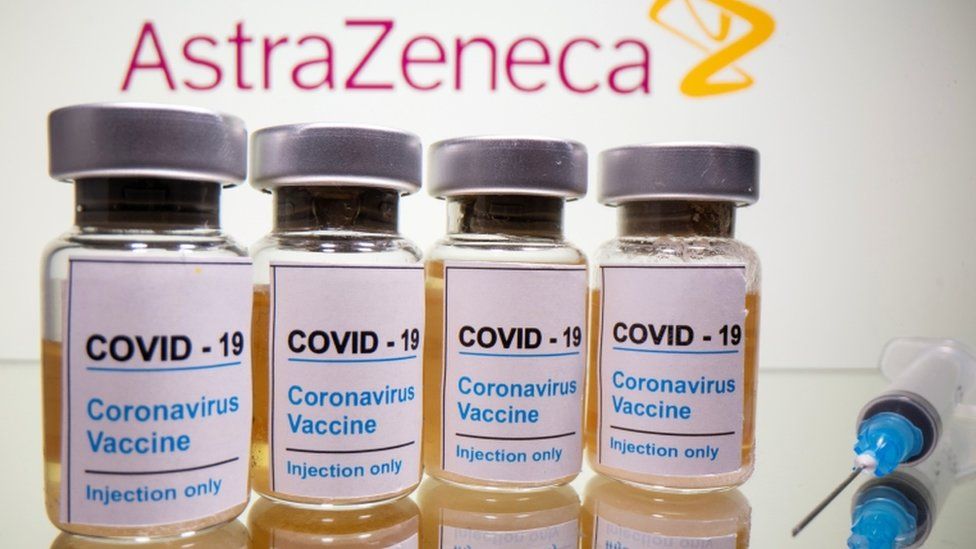 Covid-19: NI to keep using AstraZeneca jab after Irish suspension
Health officials in Northern Ireland will continue to use the Oxford-AstraZeneca vaccine after its suspension in the Republic of Ireland.
The country's National Immunisation Advisory Committee (NIAC) recommended the move after reports of serious blood clotting events in adults in Norway.
Ireland's Health Minister Stephen Donnelly said it was "precautionary".
AstraZeneca said there is no evidence of a link between the vaccine and increased risk of clotting.
On Sunday, the Netherlands became the latest country to suspend use of the vaccine. The Dutch government said the move, which will last until at least 29 March, was a precaution based on reports from Denmark and Norway of possible serious side effects.
The UK's Medicines and Healthcare products Regulatory Agency (MHRA) said it was aware of the suspension in Ireland and was "closely reviewing reports".
"But given the large number of doses administered, and the frequency at which blood clots can occur naturally, the evidence available does not suggest the vaccine is the cause," a spokesperson said.
In a statement, Northern Ireland's Department of Health said it administers vaccines under the "expert direction of the MHRA".
It said it had received guidance from the MHRA in light of the vaccine's suspension in the Republic and that the "roll-out of Northern Ireland's vaccination programme will continue".
The Department of Health also said a "further expansion of the programme will be announced very shortly".
Chair of the British Medical Association NI's GP committee, Dr Alan Stout, said it was important that anyone with a vaccine appointment scheduled attends it as planned.
"We are confident that the vaccine is extremely safe to use and it is one of the key facets of our fight against Covid-19," he said.
'It may be nothing'
On Friday, the World Health Organisation said countries should not stop using the vaccine over fears it causes blood clots as there is no indication this is true.
More than 110,000 doses of the AstraZeneca vaccine have been administered in Ireland, which is about 20% of all doses given to date.
Stephen Donnelly, Ireland's Health Minister, said he hoped the suspension was "nothing more than a very short deferral".
Ireland's deputy chief medical officer Dr Ronan Glynn said new information had been received from the Norwegian Medicines Agency on Saturday night and that, while there is no conclusion that there's a link to the AstraZeneca vaccine, the decision to suspend the vaccine programme came from "an abundance of caution".
He told Irish broadcaster RTÉ that there have been no reports of clotting events in Ireland similar to those seen in Norway and that there should still be full confidence in the vaccine programme.
Dr Glynn added that he hoped there will be more "reassuring data" this week and that the programme can restart.
"It may be nothing, we may be overreacting and I sincerely hope that in a week's time we are accused of being overcautious," he said.
In a statement, AstraZeneca said there was no evidence of an increased risk of clotting due to the vaccine.
It said that across the EU and UK there had been 15 events of deep-vein thrombosis (DVT) and 22 events of pulmonary embolism reported among those vaccinated.
"Around 17 million people in the EU and UK have now received our vaccine, and the number of cases of blood clots reported in this group is lower than the hundreds of cases that would be expected among the general population," said Ann Taylor, the firm's chief medical officer.
"The nature of the pandemic has led to increased attention in individual cases and we are going beyond the standard practices for safety monitoring of licensed medicines in reporting vaccine events, to ensure public safety."
Vaccine disruption 'undesirable'
Prof Adam Finn, a member of the UK's Joint Committee on Vaccination and Immunisation (JCVI), warned that, given evidence of the vaccine's "real-world effectiveness", a "stop-start approach" to the vaccine programme needed to be considered carefully.
"If clear evidence of serious or life threatening side-effects emerges that will have important consequences," he said.
"However so far it hasn't and it's highly undesirable to disrupt a complex and urgent programme every time people develop illnesses after receiving vaccine that may be coincidental and not causally related."
Last week, after Iceland, Norway and Denmark suspended the use of the Oxford-AstraZeneca, the MHRA said people should continue to get vaccinated.
"Blood clots can occur naturally and are not uncommon. More than 11 million doses of the Covid-19 AstraZeneca vaccine have now been administered across the UK," said Phil Bryan of the MHRA.
"People should still go and get their Covid-19 vaccine when asked to do so."
The Public Health Agency in Northern Ireland said it would "closely monitor" the situation.
"From our perspective the vaccine is safe and we're continuing to use it," said Dr Stephen Bergin, interim Director of Public Health.
"We've had good experience over the last three months now, we've had over 600,000 people vaccinated, not all of course with this particular vaccine."
Read from source: