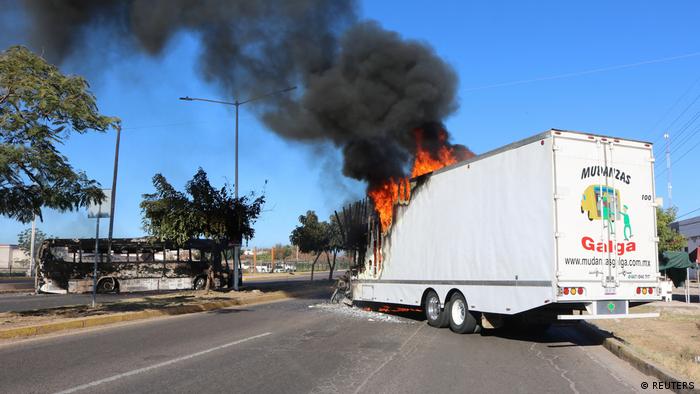 Mexico Drug Boss Arrest Sparks Fights
When the notorious cartel chief "El Chapos" goes online from the police in Mexico, his subordinates romp. Shots fall, vehicles burn.
After a son of the detained drug boss Joaquín Guzmán (called "El Chapo"), there was struggle between alleged gang members and security forces in the northwest of Mexico. Criminals put buses and trucks on the streets in the city of Culiacán and set the vehicles on fire. Numerous shots could be heard.
In view of the clashes, governor Rubén Rocha Moya called the people in Sinaloa to stay in their houses. Schools, public buildings and Culiacán airport were closed. The US embassy in Mexico advised travel to Sinaloa.
Soldiers Ovidio Guzmán had previously arrested, as Defense Minister Luis Cresencio Sandoval confirmed. Guzmán had taken over part of the Sinaloa cartel after his father's arrest and is considered one of the most important illegal dealers of the opioid fentanyl in the Central American country.
Tons of Methamphetamine
According to the US authorities, the cartel boss operates a number of laboratories for the production of methamphetamine and is said to produce between 1.5 and 2.5 tons of the drug per month. He is also said to have ordered murders of informants, rivals and a singer who did not want to sing at his wedding.
Together with his brothers, he repeatedly fought clashes with rival groups within the Sinaloa cartel. Ovidio Guzmán had already been arrested in 2019. A little later, President Andrés Manuel López Obrador ordered his release to stop serious fights between criminals and security forces.
Five Million Dollars Bounty
According to media reports, Guzmán Junior was brought to a military base in Mexico City. The U.S. State Department had suspended a bounty of five million dollars (4.7 million euros). A court in Washington already raised charges for drug smuggling against him in 2018.
His father, "El Chapo", was one of the mighty drug dealers in the world. The former boss of the Sinaloa cartel smuggled tons of cocaine and heroin in the USA and earned billions. He is also said to have been responsible for up to 3000 murders. He broke out twice from high security prisons in Mexico. After his last arrest, he was delivered to the United States and sentenced to life imprisonment there.
This article is originally published on dw.com