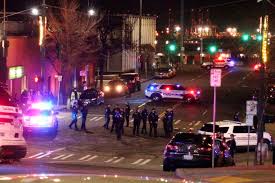 US police vehicle ploughs into crowd watching 'burnouts'
A police officer is under investigation in the US after his vehicle ploughed into a group of people, running over at least one, in Tacoma, Washington.
Nobody was killed in the incident, although one person was rushed to hospital with injuries.
A video shows a large group of people surrounding the police car as it revs its engine in an apparent effort to drive off.
The group refuses to move, and police say people started hitting the car.
The police officer then speeds through the group, hitting numerous people. One person is dragged under the car.
Tacoma Police Department said multiple vehicles and approximately 100 people were blocking an intersection when officers arrived on the scene. The group was apparently watching street racers doing "burnouts".
"During the operation, a responding Tacoma police vehicle was surrounded by the crowd. People hit the body of the police vehicle and its windows as the officer was stopped in the street," police said in a statement.
"The officer, fearing for his safety, tried to back up, but was unable to do so because of the crowd," it said.
"While trying to extricate himself from an unsafe position, the officer drove forward striking one individual and may have impacted others," it said.
The person who was run over was rushed to hospital. Their condition is as yet unclear.
The Pierce County Force Investigation Team is investigating the incident, the statement said. The police officer has not been identified.
"I am concerned that our department is experiencing another use of deadly force incident," Interim Police Chief Mike Ake said in the statement.
"I send my thoughts to anyone who was injured in tonight's event, and am committed to our department's full co-operation in the independent investigation and to assess the actions of the department's response during the incident."
The incident comes at a time of rising anger over the use of excessive force by police in the US.
People across the world took to the streets last year to demonstrate their anger at the death of George Floyd, a black man who died in police custody in Minneapolis, and to demand an end to police brutality and what they see as systemic racism.