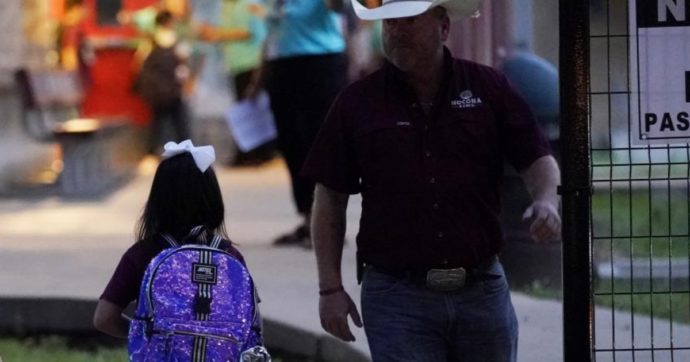 Six-Year-Old Boy Arrested After Shooting Teacher In USA School
The news has sparked panic in the United States and promises to rekindle the gun debate. But it is an episode so unusual, as well as serious, that no one seems to know exactly what to do.
Richneck Elementary School in Newport News
2 pm, Richneck Elementary School in Newport News, a Virginia town of 185,000, about seventy kilometers from Richmond. A six-year-old first grader pulled out a gun in class, pointed it at the teacher and fired a shot, seriously injuring her. Unleashing panic throughout the United States, which has mourned hundreds of deaths over the years even on the issues of violence and abuse of weapons. The teacher, in her 30s, is in danger of dying, even if in the hours following her hospitalization her conditions improved slightly.
The story of some parents is dramatic, the only testimonies that have so far leaked to the press. Ms. Brown, 32, quoted by the New York Times, was gripped by terror when she received a cell phone call from her son, speaking from another classroom. "She shocked me to hear those children screaming in panic. All they knew was that there was someone shooting in the school but they didn't know where it was," said the mother, who obviously must have thought of one of the many episodes of armed attack on a school to which America in 25 years has she's almost addicted. Brown was on the phone with her son the whole time, trying to comfort him.
"You will see that it will be fine," she told him ". Joselin Glover, whose 9-year-old son is in fourth grade at Richneck, told The Virginian-Pilot newspaper that she received a memo from the school saying that at her son's school, one person had been injured and one child was been stopped. "My heart stopped," he said, "and I went crazy, terrified that that person could be my baby." His son Carlos, he says, was having recess, but his classmates were all holed up in the classroom. "Almost all of us were crying," the woman said.
Statement of Chief Drew
Police Chief Drew said school staff were efficient in getting everyone, students and teachers, into the gym.
The boy, Drew said, was immediately taken into custody at the local police station, where he is looking into how he got the weapon and, implied, whether the family played a role. The laws of Virginia, the American media remind us, do not provide for the prosecution of a six-year-old child, even if there is the possibility of judicially removing children from the custody of parents who prove to be in default or jointly responsible for fault in episodes of this gravity .
The episode promises to rekindle the controversy between the arms lobby and its defenders and those who want to limit their use. The impression is that the story is so unusual, as well as serious, that no one knows exactly what to do. "Authorities are in contact with lawyers to figure out how to proceed," Drew said.
Yet something must be done. Newport News school superintendent George Parker said at a press conference that "we need to keep guns out of the reach of our little ones." "I can't control access to guns," Superintendent Parker continued, "and neither can my teachers control access to guns," adding that Richneck Elementary School will be closed Monday "to allow us to work on the mental health of the our staff and our students. In the end Parker draws the only possible lesson out of it: "Today our students learned a lesson about gun violence and how guns can upset not only the school environment, but also a family, a community".
This article is originally published on ilfattoquotidiano.it