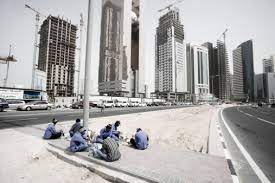 Qatar slams Amnesty international as inaccurate
Doha: The Ministry of Labour has issued a statement in response to Amnesty's report "Reality Check 2021: A Year to the 2022 WorldCup", stating that Qatar rejects its assertion that labour reforms have not translated into changes on the ground for hundreds of thousands of migrant workers.
The statement is as follows:
Qatar rejects Amnesty's assertion that labour reforms have not translated into changes on the ground for hundreds of thousands of migrant workers.
Amnesty fails to document a single story from among the 242,870 workers who have successfully changed jobs since barriers were removed in September 2020, or from the more than 400,000 workers who have directly benefitted from the new minimum wage through salary increases and other financial incentives.
Since exit permits were removed in 2018, hundreds of thousands of workers have left Qatar and returned without permission from their employer; improvements to the Wage Protection System now protect more than 96 percent of eligible workers from wage abuse; new visa centres in labour-sending countries have significantly reduced exploitative practices before workers arrive in Qatar; and new rules extend the ban on summer working to minimise the effects of heat stress.
Qatar has also strengthened its enforcement measures to safeguard workers and prosecute employers who fail to comply with the law. The number of inspectors employed by the Ministry of Labour has increased year on year, as has their capacity to thoroughly investigate working conditions and refer violators for sentencing in the labour courts.
In the first half of 35,280,2021 accommodation and worksite inspections were carried out and 13,724 penalties were issued to violating companies, including worksite closures, fines and prison sentences. A further 4,840 site visits were made by labour inspectors to raise awareness of the new laws among employers and employees.
Every year, more companies are held accountable for violating the law. Systemic reform is a long-term process and shifting the behaviour of every company takes time. Through its actions, the government is sending a strong message to companies that violations will not be tolerated.
Qatar has never shied away from acknowledging that its labour system is still a work in progress. The government is committed to engaging collaboratively and constructively with international partners and critics to further improve standards for all migrant workers in Qatar
Qatar will therefore continue to consult with international experts including the ILO and trade unions. International NGOs will also be routinely consulted to provide their recommendations.
The reality is that no other country has come so far in such a short amount of time. Following Qatar's lead, and as a sign of the programme's wider impact, other countries in the region have now taken steps to introduce their own labour reforms.
Labour reform is a complex task, and Qatar believes that solutions are best found through dialogue and engagement. For this reason, and despite Amnesty's criticism, Qatar will continue to work constructively with a range of labour experts and practitioners to build on the progress that has been made.