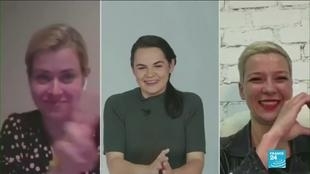 Belarus charges opposition figure Kolesnikova with undermining national security
Issued on: 16/09/2020 – 17:20 Belarus investigators have officially charged Maria Kolesnikova, a p..
Issued on:
Belarus investigators have officially charged Maria Kolesnikova, a protest leader, with incitement to undermine national security, the Investigative Committee said in a statement on Wednesday.
Advertising Read more
Kolesnikova was charged with calling for "actions aimed at undermining Belarusian national security" using the media and the Internet, the committee said.
A member of the Coordination Council created by the opposition to facilitate talks with President Alexander Lukashenko on a transition of power, Kolesnikova is currently in jail in Minsk after ripping up her own passport last week to thwart an attempt to expel her to Ukraine.
Kolesnikova, 38, played a major role in the campaign of opposition candidate Svetlana Tikhanovskaya, who claimed victory over Lukashenko in a disputed election last month, and went on to address huge rallies calling for the presidents resignation.
A closer look at three key women opposition figures challenging Belarus's Lukashenko
She was detained on September 7 in the capital, Minsk, along with two other council members. Witnesses said she was bundled into a van by masked men.
On September 8, she and the two other councRead More – Source