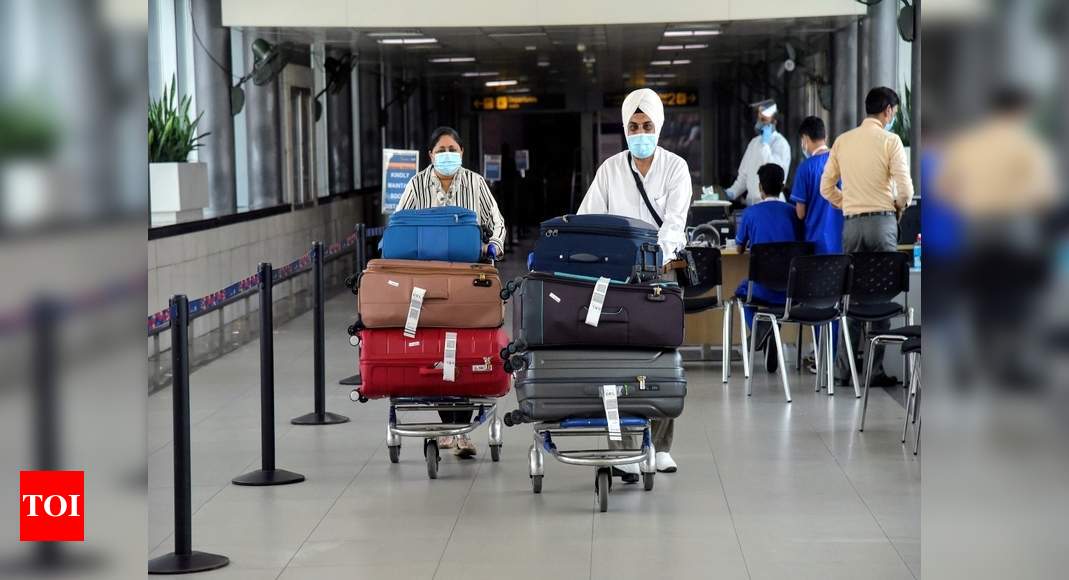 Air travel to & from India under coronavirus air bubbles: All you need to know
NEW DELHI: Scheduled international passenger flights have been suspended in India since March 23 due..
NEW DELHI: Scheduled international passenger flights have been suspended in India since March 23 due to the coronavirus pandemic. The only way to travel to and from India, meanwhile, is through an air bubble. However, India does not have an air bubble agreement with all the countries. The currently operational special international flights allow eligible categories of passengers to travel between India and another country where air bubbles have been formed. Here is all you need to know about air travel to and from India under air bubbles:
What is an air/transport bubble agreement
'Transport Bubbles' or 'Air Travel Arrangements' are temporary arrangements between two countries aimed at restarting commercial passenger services when regular international flights are suspended due to Covid-19 pandemic, as explained by India's Union civil aviation ministry. They are reciprocal in nature, meaning airlines from both countries enjoy similar benefits.
Which countries have air bubbles with India
India has air bubbles in place with 14 countries. India currently has transport bubbles with USA, UK, UAE, Qatar, Nigeria, Maldives, Japan, Iraq, Germany, France, Canada, Bhutan, Bahrain and Afghanistan. Many more countries will soon have this special arrangement with India.
Which countries have restricted air travel from India
Due to high Covid-19 caseload in India, some countries have banned travel to and from India.
Kuwait has a blanket ban on travel to and from India.
Hong Kong has suspended Air Indias flights to its airport till October 3. Hong Kong had banned Air Indias Vande Bharat flights for two weeks after several passengers brought in by the airline tested positive for Covid-19.
Authorities in Dubai, UAE, also banned Air India Express flights after the airline carried Covid-19 positive passengers on two different occasions. However, the country overturned its ban after the airline profusely apologised.
Saudi Arabia had banned travel to and from India, Brazil and Argentina but later allowed Vande Bharat repatriation flights to fly passengers to India from Riyadh and Dammam airports.
Conditions under air bubble travel
As per Ministry of home affairs notification dated July 1, 2020: Only those people are allowed to travel destination countries who are citizens of that country; who have green card or Permanent Residency Status or OCI card or any other special status in that country; those who are stranded in close neighbouring countries and permitted to exit through India; Indian nationals who are holding any time of visa of any country (other than visa for tourism purpose) if they hold a visa of that country with a minimum residual validity of one month.
As per Ministry of home affairs update dated June 30, 2020:Minor children who hold OCI cards and whose parents are Indian nationals; OCI card holders who wish to come India on account of family emergencies like critical medical conditions of immediate family members or death; Married couples where one spouse is an OCI card holder and the other is an Indian national; Students who are OCI cardholders where at least either of their parents is an Indian citizen or an OCI cardholder.
Seamen of foreign nationalities; Seamen holding Indian passports would be allowed to travel from India to respective country subject to clearance from the ministry of shipping.
Sixth freedom — flying an airline from one country to its hub in a second country and then taking a connecting flight on it to a third country from that hub — is not allowed under air bubbles. In simple words, anyone travelling under the bubble arrangement from India is not supposed to take a connecting flight to a third country.
In the case of air bubbles India has created with Germany and France, eligible categories of Indian and foreign travellers can fly Lufthansa and Air France, respectively, if they are destined for the European Union (EU). However, as of September 11, both these airlines have been asked to stop flying people between India and North America in a meeting held last week.
European Union: The air transport bubble rules for travel from India to Germany and France on Lufthansa and Air France, respectively, are: "Indian nationals who are permitted to travel abroad as per (home ministry rules) and destined for EU; Stranded EU nationals/residents, foreign nationals destined for Europe and transiting through France or spouses of these persons, whether accompanying or otherwise; and seamen of foreign nationalities. Seamen holding Indian passports would be alRead More – Source