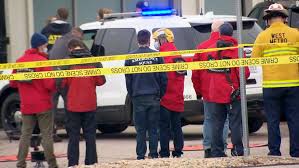 Police: Multiple People Killed at Colorado Supermarket
BOULDER, COLORADO – A shooting at a Colorado supermarket killed multiple people Monday, including a police officer, and a suspect was in custody, authorities said.
Boulder police Cmdr. Kerry Yamaguchi said at a news conference that the suspect was being treated but didn't give more details on the shooting or how many people were killed. Officers escorted a shirtless man with blood running down his leg out of the store in handcuffs, but authorities would not say if that was the suspect.
Boulder County District Attorney Michael Dougherty said authorities know how many people were killed and suggested they are not releasing the number because they need to notify families of the victims.
Yamaguchi said police were still investigating and didn't have details on motive.