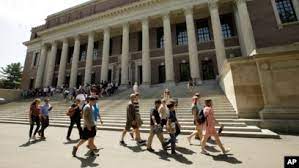 Chinese Students in US Reflect on COVID Chaos
Ryan Wang was among hundreds of thousands of Chinese students at U.S. colleges or universities who struggled over whether to return home to China or remain in the United States when the COVID-19 pandemic surged in the spring of 2020.
"When the pandemic started in China [months earlier], I felt lucky I was already back to the U.S. for the new semester," Wang, a Chinese undergraduate studying economics at Columbia University in New York City, told VOA.
Unlike Wang, many international students had not returned to the United States from winter break in January 2020 and fretted that they would lose credits and tuition fees if they could not get back to school.
For Wang, the concerns centered around whether he could return home to China.
"I had to live through the fear of infection, paying over $10,000 dollars for a one-way ticket, and being scammed by fake ticket dealers before I could go home again," he said.
Fake dealers were selling bogus tickets to international students desperate to go home after Beijing limited international carriers to one flight a week into China in April 2020. To the delight of his parents, he said, three months after U.S. colleges and universities shut down their campuses and moved all learning online, he finally made it home to Jiangsu.
"It was such a relief. Not only because I [could stop worrying] about securing tickets home, but also that I didn't have to sanitize everything and worry about COVID-19," he said. In Jiangsu, a province of over 80 million people in East China that includes Shanghai, there was less reported community spread from March 2020 to June 2021.
Just how many Chinese students sat out the 2020-2021 academic year in the U.S. was revealed this week by the Institute of International Education in its yearly report about international student mobility. The report said almost 3,000 U.S. colleges and universities showed a 15% decrease in overall international student attendance, and a 45.6% decrease in new student enrollment.
Among Chinese students — the largest percentage of total 914,095 international students in the U.S. — there was a 14.8% decline from the previous year to 317,299, or 34.7% of all international students. The second largest group from India, comprising 18.3% of all international students, showed a decline of 13.2%.
Engaging students far away
U.S. universities struggled to keep students on track. Like many schools, Columbia University extended its pass-fail policies, which reduced the academic stress of online learning. Wang said the university also provided office and study space in China where lockdowns were lifting, so students could stay engaged.
Others took classes at local universities through exchange programs arranged by their U.S. universities. Xinle Hou took two classes at Beijing Normal University (BNU) through a program called "go-local" through Barnard College, which is the women's undergraduate institution affiliated with Columbia. Other universities, including New York University (NYU) and Cornell University in Ithaca, New York, arranged for their students to attend classes in China as the pandemic abated there, while infections rose in the U.S.
Online learning fail
But not everyone was so lucky. Many students were required to take classes online remotely.