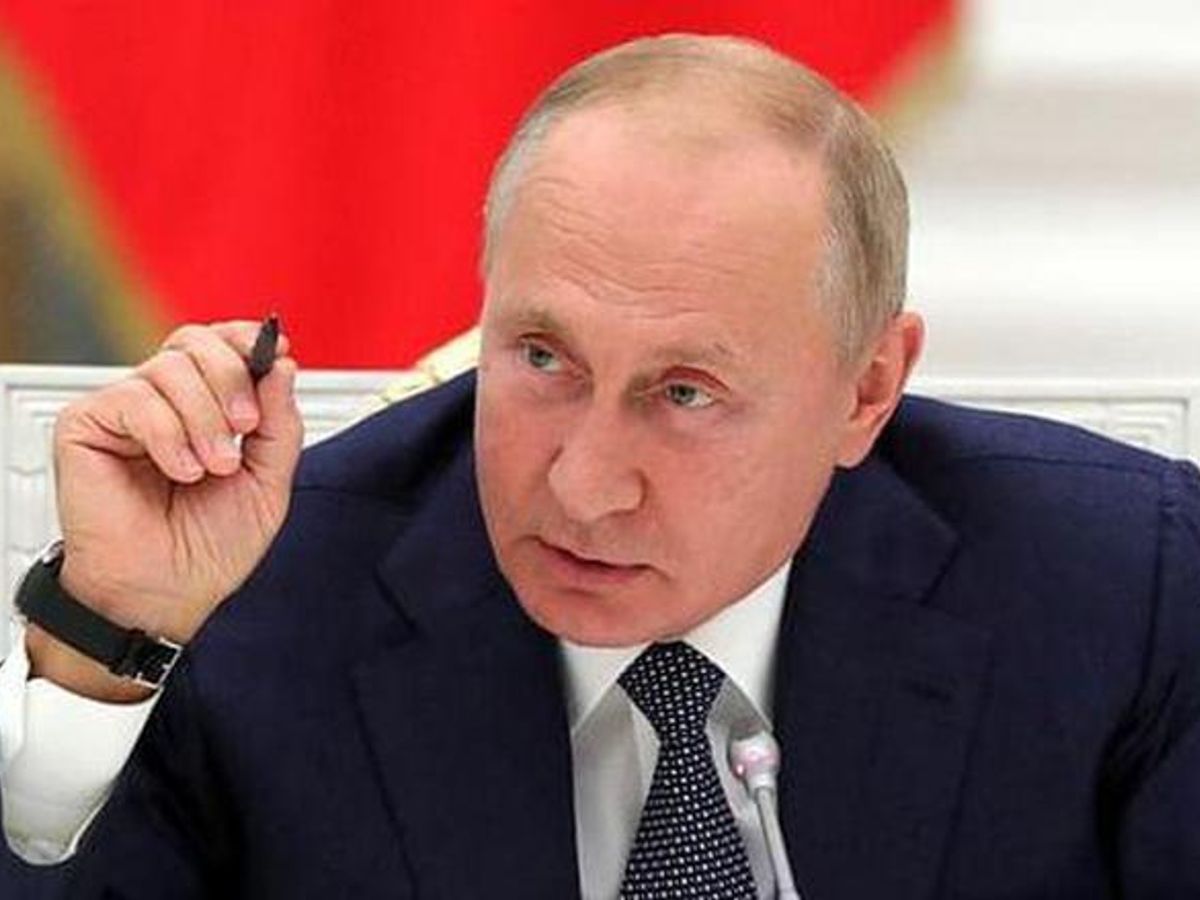 Putin says West has ignored Russia's key demands in Ukraine standoff
Russian President Vladimir Putin said Tuesday that the U.S. and its allies have ignored Russia's key security demands as the standoff between Moscow and the West over Ukraine shows no signs of easing.
Putin made his first public comments since December about the crisis, which has threatened European security, as Moscow was studying the U.S. and NATO's response to its security demands and the world was waiting for his next move on Ukraine.
In a joint news conference with Hungarian Prime Minister Viktor Orbán following their meeting in the Kremlin, Putin said it was clear that the West has ignored Russia's demands that NATO not expand to Ukraine and other ex-Soviet countries, refrain from deploying offensive weapons near Russian borders and roll back deployments to Eastern Europe.
The demands, issued by the Kremlin in December, were rejected by Washington and NATO as nonstarters, but they gave written responses to Moscow last week. Russia has yet to respond formally.
The U.S. and Western allies have said Russia has amassed more than 100,000 troops near Ukraine's borders, prompting fears of an invasion. Moscow has repeatedly denied planning an attack, and Washington and its allies have threatened swift and punishing financial penalties if it does invade.
Russia's ambassador to the United Nations suggested Monday that the U.S. was inflating the number of Russian troops along the border. Defense Department spokesman John Kirby told reporters Tuesday that "we stand by that troop number, and we continue to see additional forces join in."
Kirby noted that Russian troops had set up field hospitals near the border, as well. He said the U.S. believes Putin "has enough capability to move [on Ukraine] now if he wants to," adding, "He continues to add to that capability."
Putin has not spoken publicly about the standoff since Dec. 23 as diplomats from Russia and the West have tried to de-escalate the crisis, without any breakthroughs.
Putin's remarks Tuesday reflected his view that Russia needs to defend itself from an aggressive U.S. He said Washington does not have Ukraine's best interests at heart and that it is instead pursuing its main goal to "restrain the development of Russia," using Ukraine as a "tool."
The West, he added, has "conned" Russia by reneging on its promises in the early 1990s that NATO would not expand eastward.
But Moscow remains open to more talks with the West, Putin said, adding that he hopes for an eventual solution that would take every party's concerns into account.
Speaking Tuesday by phone, Secretary of State Antony Blinken and Russian Foreign Minister Sergey Lavrov discussed the U.S.'s response to Russia's demands, the State Department said in a news release. Blinken stressed Washington's willingness to continue "a substantive exchange" with Russia about mutual security concerns, the department's spokesman, Ned Price, said in the release.
Blinken also re-emphasized the U.S. "commitment to Ukraine's sovereignty and territorial integrity," Price said.
Blinken told Lavrov that it was time for Moscow to withdraw its troops if it is sincerely not planning to invade, another senior State Department official said.
"If President Putin truly does not intend war or regime change, the secretary told Foreign Minister Lavrov, then this is the time to pull back troops and heavy weaponry," the official said.
Lavrov, in remarks similar to Putin's, said after the call that Moscow wanted "an honest conversation" with the U.S. about the principle that states cannot strengthen their security by infringing on that of others.
The discussion following Monday's fractious U.N. showdown was part of a day of high-level diplomacy between Moscow and the West in a continued effort to ward off a potential Russian invasion of its neighbor.
British Prime Minister Boris Johnson met with Ukrainian President Volodymyr Zelenskyy after he flew to the country's capital, Kyiv.
Johnson said the U.K. stood "shoulder to shoulder" with Ukraine in the face of Russian aggression, according to a joint statement.
"The leaders warned that any further Russian incursion in Ukraine would be a massive strategic mistake and have a stark humanitarian cost," the statement said.
The U.K., Poland and Ukraine are preparing a trilateral pact to strengthen regional security, Kyiv said Tuesday.
Putin is also in talks with France for a face-to-face meeting with President Emmanuel Macron after their call Monday night.
The Russian representative forcefully denied that the Kremlin is planning another invasion of Ukraine in Monday's heated debate at the U.N. Security Council in New York.
In an unusually acrimonious session, Russia accused the West of "whipping up tensions" and helping bring "pure Nazis" to power in Ukraine — a reference to the country's toppling of its pro-Russia leader in 2014 and its election of a more Western-centric replacement.
U.S. Ambassador Linda Thomas-Greenfield countered, accusing Russia of "attempting, without any factual basis, to paint Ukraine and Western countries as the aggressors to fabricate a pretext for attack."
The U.S. and its allies believe Putin may be planning a follow-up to the invasion and annexation of Crimea in 2014, when Russia also started supporting separatists in Ukraine's east. That triggered a war that has simmered ever since, killing 14,000 people.
As the latest shipment of U.S. aid arrived in Kyiv early Tuesday, the U.S. Embassy said on Twitter that Washington prefers diplomacy but will "continue to provide Ukraine the defensive assistance needed to defend against Russia's massive military force."
On Monday, the U.S. ordered families of U.S. diplomats to leave neighboring Belarus, where Russia has sent tanks and troops for what it says are military exercises. That follows a similar move in Ukraine.
Kyiv criticized that decision and has consistently played down the threat of an imminent Russian invasion even as its allies sound the alarm.
Nevertheless, Zelenskyy signed a decree Tuesday raising the number of his armed forces by 100,000 over the next three years and boosting soldiers' pay.
He said it did not mean war with Russia was imminent, and he urged lawmakers to stay calm and avoid panic.