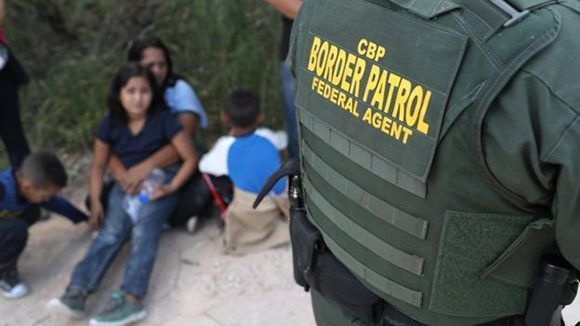 US to Allow Legal Migration from Cuba, Haiti, Nicaragua, Venezuela
The United States will allow the entry of up to 30,000 migrants from Cuba, Haiti, Nicaragua, and Venezuela per month, but will tighten restrictions, already applied with the arrival of the covid-19 pandemic, for those who try to cross the border with Mexico without the necessary documentation.
"These measures will expand and accelerate legal avenues for orderly migration and will have new consequences for those who do not use these legal avenues," the White House said Thursday in a statement. The quota of migrants will be limited to those who have a financial sponsor already in the US and pass a security investigation, allowing them to live and work in the country for up to two years.
Illegal Migrants
And those who try to enter illegally will be expelled under the health rule known as Title 42 with the intervention of the police and in coordination with Mexico. In October, a similar program was launched for Venezuelans, with a quota of 24,000 per year, and now it is being expanded to other nationalities with the aim of relieving migratory pressure on the southern border of the US.
"The legal avenues that we announce today are generous, but at the same time there are serious consequences if they are avoided," the official said. Biden will also use his speech to pressure Republicans to stop blocking his immigration reform proposals and border measures, and for Congress to provide the necessary resources. The Democratic president will visit El Paso, Texas, on Sunday, his first trip to the Southwest border since taking office and occurring while Republicans continue to criticize his approach to border security.
According to the plan announced Thursday, Mexico will accept up to 30,000 expelled migrants per month from Cuba, Nicaragua, Haiti, and Venezuela, according to a White House briefing sheet.
In November, US border agents found 82,000 migrants from these nationalities at the border with Mexico, according to government data. Migrants who cannot be expelled to Mexico will increasingly be subjected to a fast deportation process known as "accelerated expulsion," said a senior official. According to administration officials on Thursday, the expansion is based on the "success" of the plan for Venezuelan immigrants.
"It has been proven that a simplified legal pathway reduces irregular migration and facilitates safe and orderly migration," an official told reporters. According to authorities, thanks to the plan for Venezuelans, the number of migrants of that nationality arriving at the border has been reduced by 90%, a "dramatic" drop in the number of those who "choose to risk their lives using smugglers". Record numbers of migrant arrivals and arrests have caused increasing political headaches for Biden.
Title 42
Those migrants who do not have a sponsor and try to enter the US illegally will be expelled under Title 42. This title, an old public health rule activated during the presidency of Donald Trump, allowed migrants to be expelled due to the coronavirus health emergency without the opportunity to seek asylum.
According to US authorities at the time, it was introduced to help prevent the spread of covid-19 in detention centers. After the pandemic, the measure, however, remains in place. From organizations that advocate for the rights of migrants, it was criticized as being an "anti-immigration policy disguised as a health protection measure".
Since it came into force in March 2020, based on this rule, migrants have been expelled from the US more than 2.4 million times without being able to request asylum. Title 42 was disproportionately applied to those of nationalities that Mexico accepts receiving: in addition to its own citizens, Guatemalans, Hondurans, Salvadorans, and more recently Venezuelans.
Only in the last fiscal year, of those returned to the other side of the border, 962,000 were from Mexico, Guatemala, Honduras, and El Salvador, and fewer than 10,000 were from Venezuela, Nicaragua, and Cuba. Eliminating Title 42 was one of Biden's main campaign promises, but the Supreme Court has maintained it.
This article is originally poublished on cubadebate.cu