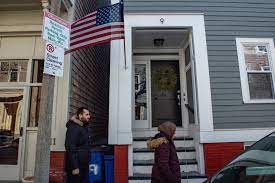 Uncertainty For Beneficiaries Of Humanitarian Parole After Lawsuit In The US
Liety Morales arrived today from Cuba with humanitarian parole, she says that "everyone who came with me today on the plane had a ticket for another day and they ahead of us for today."
Liety was one of dozens of Cubans who changed their tickets and arrived at Miami International Airport earlier than planned. "For fear that as soon as the process speeds up, the parole will stop."
Pablo Antonio Pousa, another Cuban who also arrived today with a humanitarian parole, says that there is "a lot of despair among all Cubans because one of the things you lose is sleep and there are many Cubans who have sold everything, their house, are living in rentals and now they walk in the street like beggars if they take away this parole the whole world is in a hurry".
Pablo was reunited with his uncles and his story is repeated among the tears, hugs and balloons that flood the waiting rooms of the airport.
About Odalys Reyes
Odalys Reyes is a sponsoring grandmother who brought her grandson with her. "My grandson and my daughter-in-law were coming next month in February when we heard the news and we quickly got a ticket for them and today they are arriving here."
This rush to get there intensified after twenty states with Republican attorneys general on Tuesday sued the government of President Joe Biden to stop the humanitarian parole program that benefits Cubans, Venezuelans, Nicaraguans and Haitians.
"I got scared, my dad was thinking of coming next week but I told him we're going to hurry up," says Brian Morales.
But a constitutional lawyer explains that removing it is not so easy. "The court is going to have to accept the program eventually to resolve the case and that can take up to a year," says constitutional lawyer Joseph Malouf.
Malouf recommends to those who have not arrived that they have "patience, apply to the program as soon as possible, do not wait any longer in certain programs we have seen a judge stop the program for those who have not registered, but not for those who are already in the program".
Meanwhile, at the Miami Airport, happy moments continue to be lived where families are reunited.
This article is originally published on telemundo51.com